"LEAF has established a reputation as an expert in constitutional equality law. This remarkable reputation has been built upon the dedication and talent of amazing advocates from across the country who have donated their time and efforts to LEAF. The mission of LEAF is to be the leading voice in substantive equality across Canada."
Dr. Kim Stanton, Legal Director, LEAF
LEAF is a rarity in the not-for-profit sector, demonstrating tangible results for women and girls, year after year. The dollars we raise allow us to effectively research, educate and litigate at the Supreme Court level.
Since 1985, LEAF has intervened in over 90 cases that have advanced equality in Canada. We thank all our pro bono lawyers who helped us in our cause. Our involvement in a myriad of cases has not only shaped the Canadian Charter of Rights and Freedoms – it has shaped our national conversation.
LEAF focuses on litigation, law reform and public education, primarily the Canadian Charter of Rights and Freedoms, most notably section 15 and 28, to challenge laws, policies and practices that discriminate against women. Our cases have resulted in landmark victories in preventing violence against women, eliminating discrimination in the workplace, allowing access to reproductive freedoms, and providing better maternity benefits, better spousal support and a right to pay equity. Section 15 rights and the Charter in general have been tested, and strengthened, through the advocacy work of LEAF.
Please review below a list of some of the cases that LEAF has intervened in. We welcome you to visit our extensive online resource library available in "Legal" section, which contains all LEAF submissions where we have intervened at the appellate courts and at the Supreme Court of Canada.
If you have any questions, please contact us.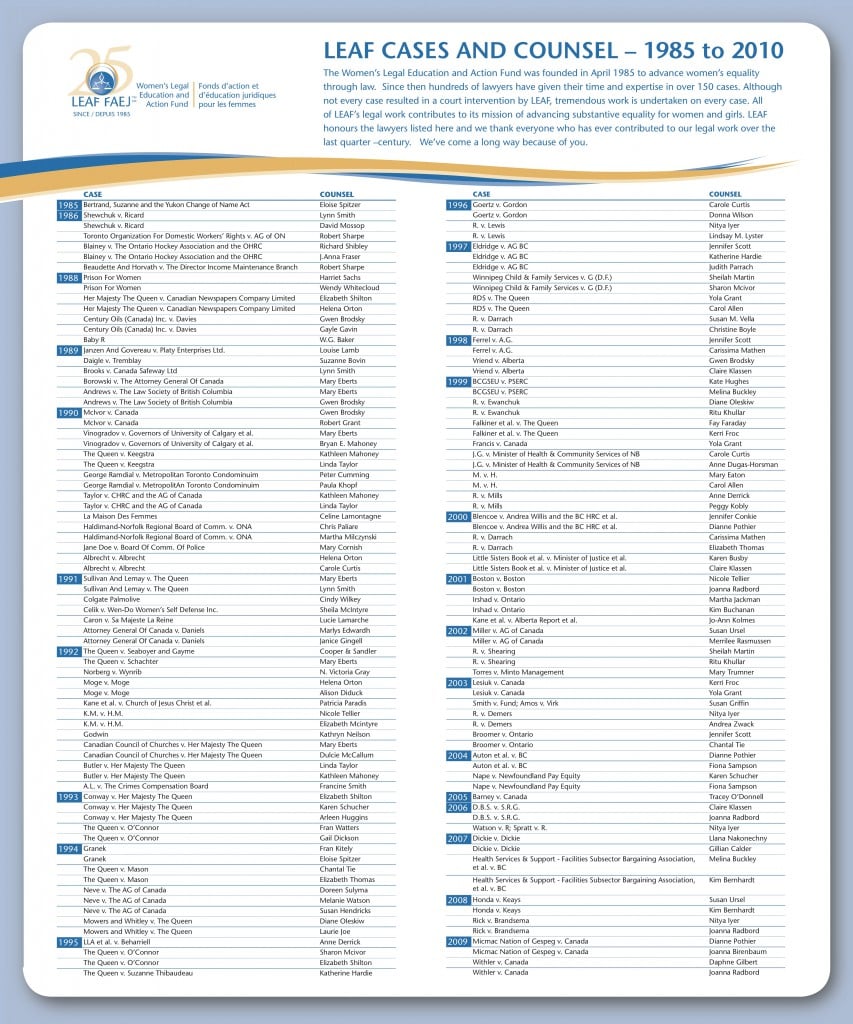 Here's what others say about us . . .