Books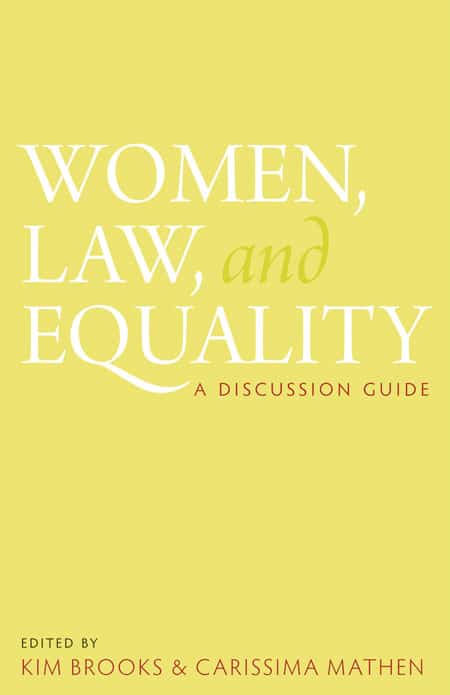 Women, Law and Equality: A Discussion Guide
Edited by Kim Brooks and Carissima Mathen. July 2010
Women, Law, and Equality: A Discussion Guide is designed to stimulate and facilitate discussions around the complicated issues of feminism, equality, and social justice among broad spectrum of readers, with varied perspectives and knowledge. The book consists of six chapters, which first frame the following five topics: Polygamy; Caring for Young Children; Feminism, Law, Cinema; Women and Power; and Women and Migration. Each chapter provides excerpted and compiled texts and discussion questions intended to stimulate discussion.
The topics discussed in the guide all throw into relief the legal, social, ethical, and political implications of women's equality issues. The range of topics covered in the guide make it ideal for a survey or introductory-level gender studies, women in the law, or women-focused political science course. It could also be used for a series of book club-style discussions.
This book is available through Irwin Law: Women, Law and Equality: A Discussion Guide
---
Justice Bertha Wilson:  One Woman's Difference
Edited by Kim Brooks.  December, 2009
Bertha Wilson's appointment to the Supreme Court of Canada in 1982 capped off a career of firsts. Wilson was the first woman lawyer and partner at a prominent Toronto law firm and the first woman appointed to the Ontario Court of Appeal. In light of her death in 2007 Wilson's extraordinary intellect and groundbreaking achievements provoked reflection on her contributions to Canadian society and prompted the question, what difference do women judges make? Justice Bertha Wilson examines Wilson's career through three distinct frames – foundations, controversy, and reflections – and a wide range of feminist perspectives. Taken together, these provocative essays paint a nuanced portrait of a complex, controversial woman who made a deep impression on the Canadian legal landscape.
This book is available through Amazon.ca: Justice Bertha Wilson: One Woman's Difference
---
Making Equality Rights Real: Securing Substantive Equality Under the Charter
Edited by Fay Faraday, Margaret Denike, M. Kate Stephenson. June 2006
In the two decades since Section 15 of the Canadian Charter of Rights and Freedoms came into effect, the right to equality has been one of the most hotly contested Charter rights, being disputed in over 350 reported court cases across Canada. It is a right that in very short order has become deeply engrained in Canadian legal, political, and social discourse. It has become a bedrock value, fundamentally reflecting and shaping how Canadians view themselves and their society.
Making Equality Rights Real critically assesses the state of equality jurisprudence from many angles. Collectively, these 13 essays attempt to advance substantive equality as section 15 of the Charter moves into its second generation. Each of the papers in this collection aims to deepen our understandings of the dynamics of inequality and oppression and so produce a richer more nuanced legal framework for eradicating discrimination and promoting substantive equality. With only two decades' experience with Charter equality litigation, the project to secure substantive equality remains a work in progress.
This book is available through Irwin Law: Making Equality Rights Real: Securing Substantive Equality Under the Charter