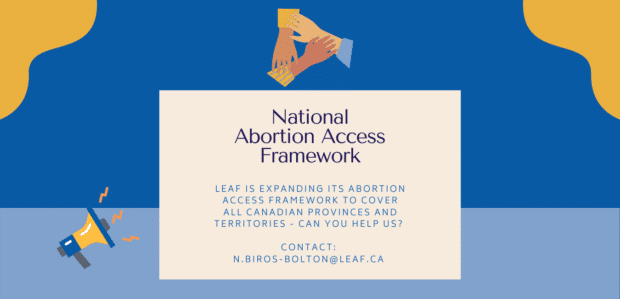 Following the update by LEAF Halifax of our resource on Nova Scotia's abortion laws and policies, Access to Choice: The Legal Framework for Abortion Access in Nova Scotia, LEAF is expanding this document to encompass all provinces and territories.
We are seeking volunteers who can compile abortion access frameworks for each province and territory. Below are a few details about the project as well as projected timelines and time commitment requirements.
We would like to thank Julianne Stevenson, Jennifer Taylor and Mary Rolf for writing this very important resource, keeping it up to date and inspiring the development of this important national resource.
Project Overview
A substantial portion of the Nova Scotia Framework is applicable to all of Canada, where federal laws and Supreme Court case law is explored. Roughly half of the document is province specific and will need to be researched and written for each province and territory. Volunteers will work off of the Nova Scotia Framework and adjust the information that is province specific to match the province or territory they are assigned to.
We are seeking 1-2 volunteers to focus on each location.
Research will include: contacting abortion service providers, researching and summarizing relevant case law for each province and territory, historical issues concerning abortion access within the region, health coverage and coding systems, timelines for accessing services, service providers and resources and region-specific laws such as regulations regarding protests at abortion clinics.
Project Timeline
Summer, 2020 – volunteer sign up and orientation
Summer/Fall, 2020- begin research and writing
Fall, 2020 – editing and revising
Winter, 2020-2021 – finalize with a view to merging the documents into one national resource
Contact
If you are interested in contributing, please contact Nicole Biros-Bolton at n.biros-bolton@leaf.ca by July 20, 2020.