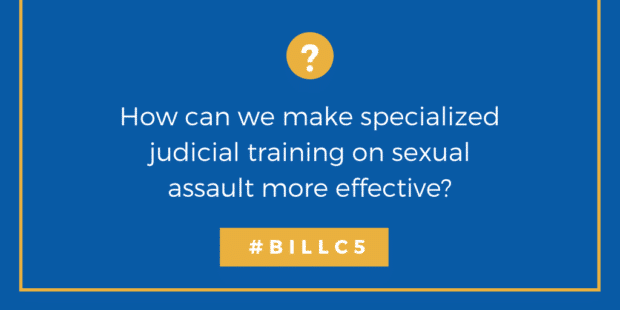 On March 12, 2020, LEAF Staff Lawyer Rosel Kim appeared before the Standing Committee on Justice and Human Rights to speak about Bill C-5, An Act to amend the Judges Act and the Criminal Code. This Bill would require potential judges to promise to complete continuing education on sexual assault law and social context. It would also require judges to provide reasons for their decisions in sexual assault trials, which would need to be recorded.
LEAF's submissions highlighted the need for training for judges on sexual assault law, to combat harmful myths and stereotypes about sexual assault complainants and to ensure that judges are able to properly apply this complex area of law. For this reason, LEAF generally supports the Bill in its current version.
However, to be effective, the Bill must clarify certain points. LEAF's suggestions included:
Defining "social context" as factors contributing to inequality in Canadian society, including colonialism, systemic racism, ableism, homophobia, and transphobia;
Ensuring that training materials are developed in consultation with sexual assault survivors who reflect the diversity of people in Canadian society, and with lived experience of oppression; and
Ensuring that training materials include the impact of trauma on a complainant's memory, demeanour and well-being.
Our submissions also suggested that where judges read an oral decision into the record and do not provide written reasons, the transcript of the decision should be made available on publicly accessible domains.
For more details, please see LEAF's written brief to the Committee.
About Women's Legal Education and Action Fund (LEAF)
The Women's Legal Education and Action Fund (LEAF) works to advance the substantive equality rights of women and girls through litigation, law reform, and public education. Since 1985, we have intervened in landmark cases that have advanced equality in Canada—helping to prevent violence, eliminate discrimination in the workplace, provide better maternity benefits, ensure a right to pay equity, and allow access to reproductive freedoms.
For media inquiries, contact:
Rosel Kim, Staff Lawyer
Women's Legal Education and Action Fund (LEAF)
T: 416 595 7170 ext 2003
E: [email protected]