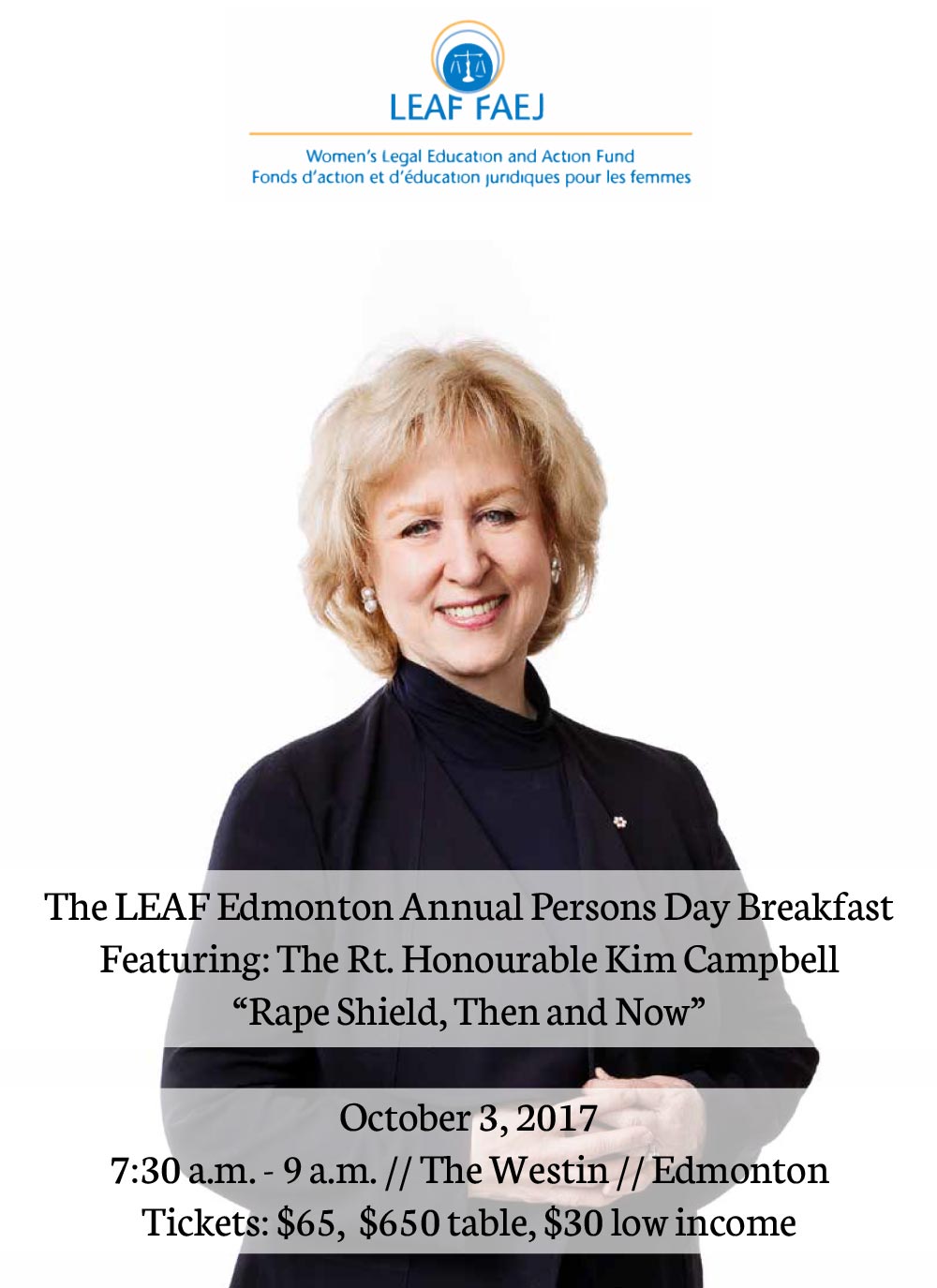 LEAF Edmonton cordially invites you to our annual Persons Day Breakfast fundraiser. The Persons Day Event is LEAF's largest signature fundraising event and has raised over $4 million to date to help LEAF continue its mission of advancing substantive equality for women and girls in Canada.
This year we are excited to announce that our speaker will be the Right Honourable Kim Campbell. She served as Canada's nineteenth and first female Prime Minister and she was the first woman to hold the Justice and Defense portfolios, and the first woman to be Defense Minister of a NATO country.
Ms. Campbell was instrumental in the creation of the Rape Shield Law also known as the "No means No" law to help protect the victims of sexual violence.
When:
October 3, 2017 7:30 AM-9:00 AM
Where:
Westin 10135 100 St NW, Edmonton
Tickets:
$65 or $650 per table (10 per table)
$30 student/low-income
Maximum number of tickets 350
EVENT REGISTRATION
We welcome you to review our registration package HERE for registration details, sponsorship and advertising opportunities.
What is Persons Day?
On October 18th, 1929, the historic decision to include women in the legal definition of "persons" was handed down by Canada's highest court of appeal – the Judicial Committee of the Privy Council of Great Britain. LEAF Edmonton's annual Persons Day Event is held in celebration of that ruling which decided that women were to be considered persons under the law and eligible to sit in the Canadian Senate.
About Women's Legal Education and Action Fund (LEAF), Edmonton
Since April 17, 1985, when equality rights were enshrined in sections 15 and 28 of the Canadian Charter of Rights and Freedoms, LEAF has worked toward equality for women and girls. LEAF intervenes in key cases to ensure that when courts interpret equality rights, there will be a systemic improvement in women's lives.
Over its thirty-year legacy, LEAF has achieved numerous victories in the courts and advanced substantive equality for women and girls in Canada.