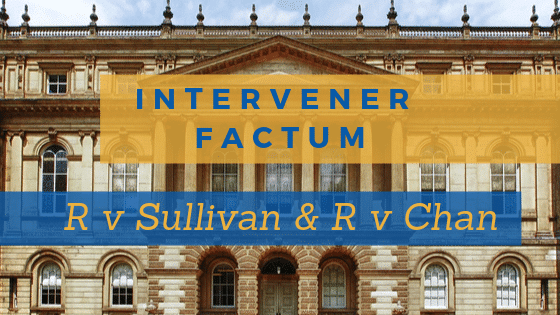 On Tuesday, October 8 and Wednesday October 9, 2019, the Women's Legal Education and Action Fund (LEAF) will appear before the Ontario Court of Appeal to intervene in the appeal of the trial decisions in R v Sullivan and R v Chan. LEAF's intervention will focus on the balancing of Charter rights – including the s 7 rights of women to security of the person and s 15 rights to equality, as well as the rights of accused persons – under section 7 and/or section 1.
These cases challenge the constitutionality of s 33.1 of the Criminal Code, a provision that prevents the use of voluntary self-induced extreme intoxication as a defence to assault-based offences, including sexual assault. This provision is important to LEAF's mandate to advocate for fairness for sexual assault complainants. Many sexual assaults are committed in the context of intoxication, and drugs and alcohol are often a factor in sexual and physical violence against women.
The constitutionality of s. 33.1 of the Criminal Code has been the subject of diverging lower court decisions, both in Ontario and across the country, and it has never been considered by any appellate court. In each case in which the provision was challenged, there was no consideration given to women's s 15 equality rights.
The Facts
Both decisions on appeal involve violent physical assaults committed by men who were hallucinating due to having consumed drugs. In both cases, the accused argue that they lacked the intention to commit the offence, and it would violate the Charter to penalize them for an act they did not intend to do.
LEAF's Intervention
LEAF intervenes to submit that the constitutionality of this provision must be assessed in the context of women's s 15 equality rights. LEAF's submission focuses on the objectives of Parliament when enacting this law, which was to protect the rights of women and children, recognizing that violence disproportionately impacts them.
LEAF submits that any assessment of whether the impugned law violates s 7 of the Charter of Rights and Freedoms must consider and seek to balance all of the Charter rights engaged by s 33.1, including the s 7 security interests of victims of self-induced intoxicated violence (predominately women and children), as well as the ss 15 and 28 equality rights that were at the forefront for Parliament when it passed Bill C-72.
Additional Information
Read the R v Chan decision on the constitutionality of s 33.1
The decision in R v Sullivan is not published.
Read LEAF's Intervener Factum.
---
Megan Stephens, Executive Director and General Counsel at LEAF, and Lara Kinkartz of WeirFoulds LLP are acting as counsel in this important intervention.
About Women's Legal Education and Action Fund (LEAF)
The Women's Legal Education and Action Fund (LEAF) works to advance the substantive equality rights of women and girls through litigation, law reform, and public education. Since 1985, we have intervened in landmark cases that have advanced equality in Canada—helping to prevent violence, eliminate discrimination in the workplace, provide better maternity benefits, ensure a right to pay equity, and allow access to reproductive freedoms. For more information, please visit www.leaf.ca
For media inquiries, contact:
Megan Stephens, Executive Director and General Counsel
Women's Legal Education and Action Fund (LEAF)
T: 416 595 7170 ext 2002
E:

[email protected]