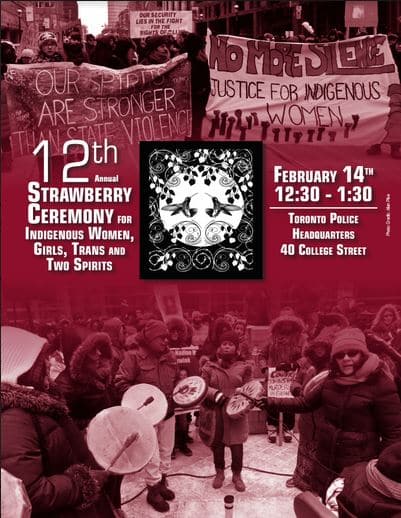 Come and support the 12th Annual Strawberry Ceremony in Toronto on February 14th, 2017!
EVENT DETAILS:
WHAT:
Strawberry Ceremony with Elder Wanda Whitebird
WHEN:
Feb 14, 2017
12:30pm
WHERE:
Police Headquarters
40 College Street at Bay
Toronto
EVENT OVERVIEW (FROM THE ORGANIZERS):
Please leave your agency, institutional and organization banners at home and instead make signs in honour of women, girls, trans and two-spirit people who have died violent and premature deaths. You can find names here: http://www.itstartswithus-mmiw.com/list_ontario
Singers, song keepers and drummers please bring your drums for the ceremony. Drummers from the organizing committee, with the direction of Wanda, will be leading songs. Jingle dress dancers are also called to join on the march. Please contact us if you can participate so protocols can be observed.
We recognize that February is out of season for a ceremony involving strawberries, but the violence we are experiencing is also a disruption in our traditional ways of life.
ACCESSIBILITY DETAILS FOR THOSE PLANNING TO ATTEND:
It might be cold. Please dress for the weather, the ceremony will likely last for one hour. Some tokens will be available. There will be a sound system.