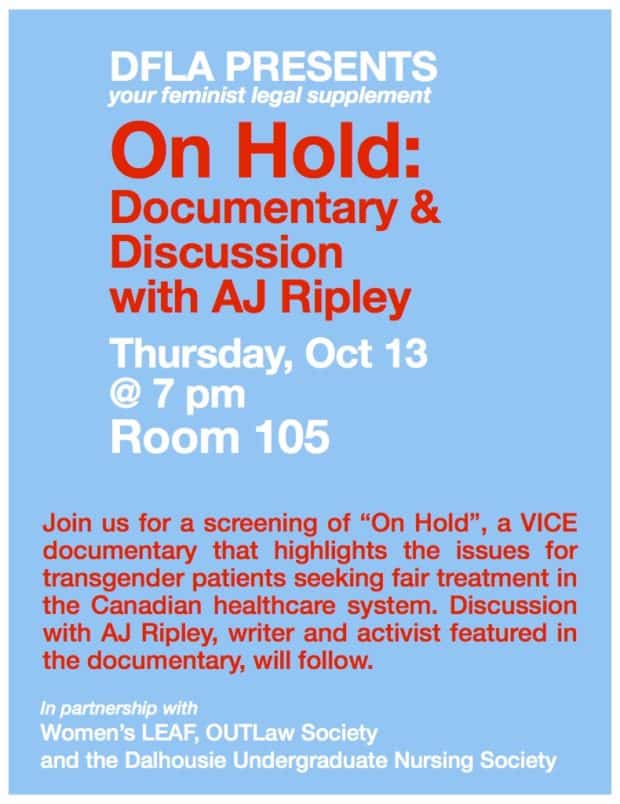 Join Halifax LEAF on October 13th, 2016 for a screening of "On Hold", a VICE documentary that highlights the issues for transgender patients seeking fair treatment in the Canadian healthcare system. A discussion with AJ Ripley, writer and activist featured in the documentary, will follow.
WHEN:
October 13th, 2016 at 7p.m.
WHERE:
Weldon Law Building (Room 105)
Dalhousie University
6061 University Ave
Halifax, NS
The building and the room are wheelchair accessible. Gender neutral bathrooms are located on the third floor, which is accessible by stair or elevator.
After the official event, all are welcome to the Grawood Pub at the Dalhousie Student Union Building to keep the conversation going informally.
This event is brought to you by:
Dalhousie Feminist Legal Association (DFLA)
Halifax Women's Legal Education and Action Fund (Halifax LEAF)
Dalhousie OUTLaw Society
Dalhousie Undergraduate Nursing Society
Visit the event page on facebook
Press for the event:
OUTLaw and DFLA Present: On Hold,Weldon Times, November 18, 2016
The Film:
If you missed the event, please watch the film On Hold: Canadian Transgender Health Access: