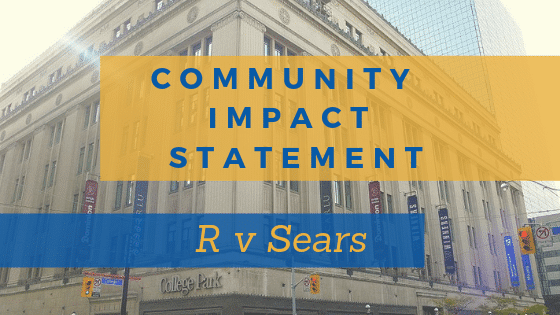 LEAF applauds an Ontario court's sentencing decisions in the case of James Sears and LeRoy St. Germaine. Sears and St. Germaine, who were editor and publisher of a community newsletter Your Ward News, were found guilty in January 2019 of 2 counts of willfully promoting hatred. Sears received a 12-month jail sentence and St. Germaine was sentenced to 12 months' house arrest.
We welcome the court's characterization of hate promoted towards women as especially aggravating since the defendants' (St. Germaine and Sears) materials advocated for the commission of physical and sexual violence against women. This greatly undermines women from feeling safe in their communities.
Furthermore, hate speech perpetuates harmful stereotypes, which act as barriers to equality for women in all areas of their life. The reinforcement of negative stereotypes risks contributing to prejudice and bias against women.
For these reasons, LEAF submitted a Community Impact Statement at the sentencing, which outlined how hate speech negatively effects women.
Our Statement identified and discussed the following impacts of hate speech on women:
Hate speech against women injures women's dignity and causes psychological harm;
Hate speech against women undermines women's safety from violence;
Hate speech against women perpetuates stereotypes and erects or reinforces barriers to women's social, economic, and political participation.
Rosel Kim, LEAF Staff Lawyer adds:
"As the Court has recognized, hate speech injures women's human dignity and causes psychological harm. We also know that this harm is exacerbated for Black and racialized women, who were specifically targeted by the defendants' materials based on their race and gender.

The Court's decision is the first conviction for hate speech against women, recognizing the harm of promoting misogynist views and beliefs. This is a pivotal part of moving Canadian society closer to the goal of gender equality."
Learn more about the harm caused to women in our Community Impact Statement Submission to the Court.
---
Women's Legal Education and Action Fund (LEAF)
The Women's Legal Education and Action Fund (LEAF) works to advance the substantive equality rights of women and girls through litigation, law reform, and public education. Since 1985, we have intervened in landmark cases that have advanced equality in Canada—helping to prevent violence, eliminate discrimination in the workplace, provide better maternity benefits, ensure a right to pay equity, and allow access to reproductive freedoms. For more information, please visit www.leaf.ca
---
For media inquiries, contact:
Rosel Kim, Staff Lawyer
Women's Legal Education and Action Fund (LEAF)
T: 416 595 7170 ext 2003