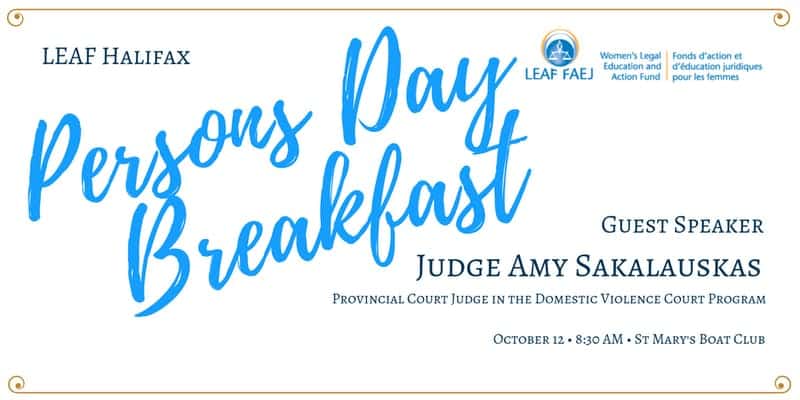 Update – October 5, 2018
We are very sorry to say that Judge Amy Sakalauskas will no longer be able to attend the event as scheduled. She passes on her sincere regrets, but unfortunately circumstances made it impossible for her to join us.
However! We are very excited to announce that our new keynote for the LEAF Halifax Persons Day Breakfast will be Judge Laurie Halfpenny-MacQuarrie, who has been one of the key figures in establishing the new provincial and superior court on Wagmatcook First Nation in Cape Breton. The Wagmatcook Court opened in April 2018 and includes a Wellness Court and a Gladue Court. The Court has been described as a historic step forward for reconciliation in Nova Scotia.
We are so pleased and honoured that Judge Halfpenny-MacQuarrie has agreed to speak about the development of the Wagmatcook Court and her first few months as one of its presiding judges. We can't wait for the opportunity to learn from her experiences with the wonderful feminist legal community we have the privilege of hosting every year at our Persons Day Breakfast.
The time, date and place of the Persons Day Breakfast remain unchanged. Looking forward to seeing you at 8:30 a.m. on Friday, October 12, 2018 at the beautiful Saint Mary's Boat Club.
---
Please join us October 12, 2018 to our Annual Persons Day Breakfast – Halifax.
Get inspired and join us for this year's celebration of milestones in our work together towards substantive gender equality.
The morning includes a special keynote address from Judge Amy M. Sakalauskas, a judge of the Provincial Court of Nova Scotia assigned to the Domestic Violence Court Program in the Halifax Regional Municipality. Judge Sakalauskas will speak about the importance of a specialized court for domestic violence matters and her experience on the bench.
Our keynote address will be followed by a delicious breakfast, coffee, and tea overlooking the beautiful Northwest Arm.
Date: October 12, 2018 – from 8:30 am to 10:30 am
Local – St. Mary`s Boat Club 1641 Fairfield Rd., Halifax, NS B3H 2A6
For more details please contact us at [email protected]
To purchase the tickets please click here
---
The LEAF Halifax Persons Day Breakfast is presented in part thanks to the kind support of our Justice Sponsor, the Nova Scotia branch of the Canadian Bar Association