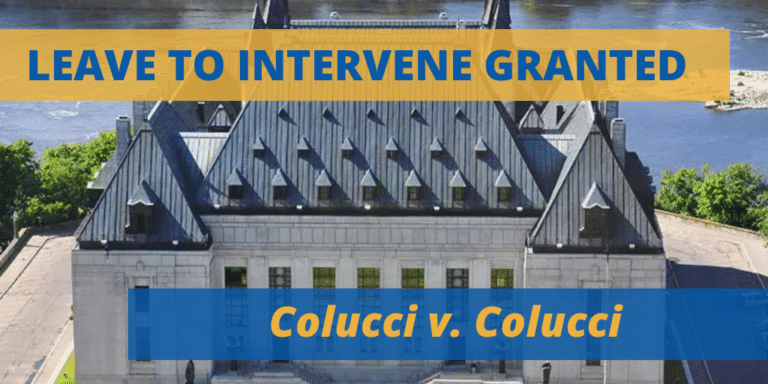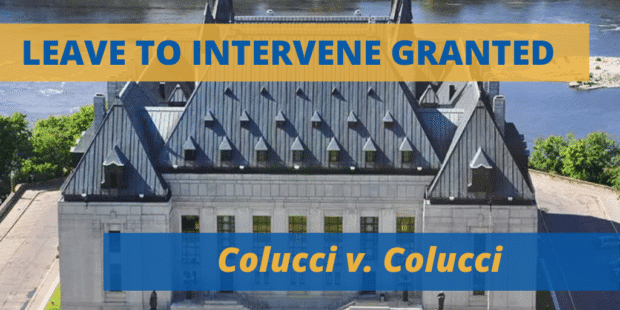 On June 8, 2020, LEAF and West Coast LEAF were granted leave to intervene in Colucci v. Colucci at the Supreme Court of Canada.
LEAF and West Coast LEAF, represented by Jennifer Klinck and Joshua Sealy-Harrington (Power Law), will propose a legal framework for fair child support orders that takes as its starting point the reality that unpaid child support contributes to the feminization of poverty. By centering women and children's substantive equality rights, the framework would ensure that judges' child support orders are fair.
LEAF & West Coast LEAF's interest in the appeal
Colucci is a case about retroactive decreases in child support obligations and the impact of those reductions on women and children's substantive equality. This case asks: what are the circumstances in which a judge can decrease the amount of child support a parent owed in the past because his income went down during that time?
This case will have a direct impact on the economic disadvantages faced by women, disadvantages that are perpetuated by structural and systemic discrimination – or what is called the "feminization of poverty". In the overwhelming majority of child support cases, payor parents are men and recipient parents are women. Every unpaid child support instalment contributes to women's socioeconomic inequality and deepens child poverty.
At the Supreme Court of Canada, LEAF and West Coast LEAF will ask the Court to affirm substantive equality as an interpretive principle informing the exercise of judicial discretion under the Divorce Act when modifying child support orders.
"This important appeal will address a significant source of women's ongoing economic marginalization – failure to pay child support by payor parents," says Megan Stephens, Executive Director and General Counsel of LEAF. "LEAF and West Coast LEAF are intervening in this appeal to argue that the gendered reality of child support necessitates a substantive equality analysis. A substantive equality analysis may require that payor and recipient parents be treated distinctly in order to achieve equality of results."
"The integrity of the child support system hinges on the obligation of payor parents to disclose changes in their income to recipient parents," says Kate Feeney, Director of Litigation at West Coast LEAF. "Without such disclosure, it is an uphill battle for recipient parents – mostly women – to get their children the support they are owed. West Coast LEAF and LEAF are intervening in this case to ensure that retroactive changes to child support obligations do not incentivize payor parents to shirk their disclosure obligation through delay or dishonesty."
Case committee
LEAF's interventions are guided, informed and supported by a case committee composed of academics and practitioners with expertise in the relevant issues. The case committee members for this intervention are (in alphabetical order): Natasha Bakht (University of Ottawa); Vicky Law (Rise Women's Legal Centre); and Deepa Mattoo and Tamar Witelson (Barbra Schlifer Commemorative Clinic).
For background and judicial history of the case, see our earlier announcement.
---
About Women's Legal Education and Action Fund (LEAF):
The Women's Legal Education and Action Fund (LEAF) works to advance the substantive equality rights of women and girls through litigation, law reform, and public education. Since 1985, LEAF has intervened in landmark cases that have advanced equality in Canada—helping to prevent violence, eliminate discrimination in the workplace, provide better maternity benefits, ensure a right to pay equity, and allow access to reproductive freedoms.
To support our work to protect the equality rights of women and girls, please consider donating today.
About West Coast LEAF:
West Coast LEAF is the first and only organization in BC dedicated to using the law as a strategy to work towards an equal and just society for all women and people who experience gender-based discrimination. Since its founding in 1985, West Coast LEAF has helped bring about some of Canada's most important feminist victories for reproductive rights, workplace standards, fairness in family law, legal protections from sexual harassment, and more.
For media inquiries, contact:
Jennifer Klinck, Partner
Power Law
T: 604-239-0984
E: [email protected]
Cee Strauss, Staff Lawyer
Women's Legal Education and Action Fund (LEAF)
E: [email protected]