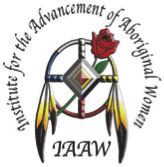 October 9, 2018, Edmonton/Toronto – The Institute for the Advancement of Aboriginal Women (IAAW) and the Women's Legal Education and Action Fund (LEAF) will appear before the Supreme Court of Canada on October 11 to advocate for the rights of Cindy Gladue and all Indigenous women. The Court will consider an appeal of the unanimous Alberta Court of Appeal decision ordering that Bradley Barton be re-tried for the murder of Cindy Gladue. Ms. Gladue bled to death as a result of a wound inflicted upon her by Mr. Barton.
The dehumanizing treatment of Cindy Gladue in this case raises critical issues, including of the law of consent, the mistreatment treatment of Indigenous women by the criminal justice system, and the pervasive problem of violence against women. "The trial of Bradley Barton is another, horrific example of a system designed to dehumanize and punish Indigenous women," says Julie Kaye, Research Advisor for IAAW.
The disrespect shown to Ms. Gladue during the trial process, including the introduction into evidence of her preserved pelvis, undermined her dignity, disrespected her family, ignored any Indigenous perspective on caring for the deceased, and angered women across Canada. As Order of Canada recipient, Muriel Stanley Venne states, "Aboriginal women live in a country that is hostile to their very existence. Both Bradley Barton and the Canadian court showed no regard for the humanity or dignity of the person Cindy Gladue."
IAAW and LEAF's intervention at the Supreme Court of Canada reaffirms our joint submissions at the ABCA. We argue that the trial judge erred in admitting Ms. Gladue's sexual history and did not properly instruct the jury on the law of consent. The trial judge's failure to apply the rape shield law allowed prejudice to infect the trial proceedings, raising discriminatory myths and racist stereotypes about Indigenous women. In addition, the trial judge's instructions did not clearly inform the jury that Canadian law requires a careful analysis of whether there was agreement to engage in every sexual act performed. As Lise Gotell, LEAF Chair argues, "Consenting to sexual activity must include agreeing to the degree of force used. To rule otherwise would be to depart from established law and to undermine women's sexual autonomy and their rights to equality and security of the person."
As LEAF's Legal Director Shaun O'Brien observes, "Even after decades of feminist advocacy, law's response to sexual violence too often fails to deliver justice." As the ABCA found, "myths and stereotypes continue to stalk the halls of justice in cases involving sexual offenses."
In solidarity with Indigenous communities gathering across the country to honour Cindy Gladue, IAAW and LEAF will again argue that racist and sexist stereotypes have no place in trial proceedings. The Supreme Court of Canada must uphold the Court of Appeal decision.
Cindy Gladue was a daughter, a mother, a woman who deserves justice. Her family deserves justice. The hearing takes place starting at 10 am on October 11.
For more information, please contact:
Muriel Stanley Venne, IAAW, President and Founder 780.887.3115, [email protected]
Julie Kaye, Research Advisor, IAAW 306-880-2910, [email protected]
Lise Gotell, Chair, LEAF National 789-297-0326, [email protected]
Shaun O`Brien, Legal Director, LEAF National T: 416 595 7170 ext 223, [email protected]
About the Institute for the Advancement of Aboriginal Women (IAAW)
For more than 20 years, IAAW has advanced the rights of Aboriginal women through advocacy, education, research and program development. IAAW is composed of First Nation and Metis Women dedicated to supporting other women in their journey to build individual and family capacity while supporting the development of healthy, safe and caring communities. For more information about IAAW, visit www.iaaw.ca.
About Women's Legal Education and Action Fund (LEAF)
Since April 17, 1985, when equality rights were enshrined in sections 15 and 28 of the Charter of Rights and Freedoms, LEAF has worked toward equality for women and girls. LEAF intervenes in key cases to ensure that when courts interpret equality rights, there will be a systemic improvement in women's lives. For more information about LEAF, visit www.leaf.ca.